Discovery tour during the Tibetan New Year Losar in Eastern Tibetan cultural area Amdo in Province Qinghai and Gansu
- Tibetan New Year Festival (Losar) in Tongren, Langmusi, Luqu and Xiahe
By Sun Hui • 13-04-2017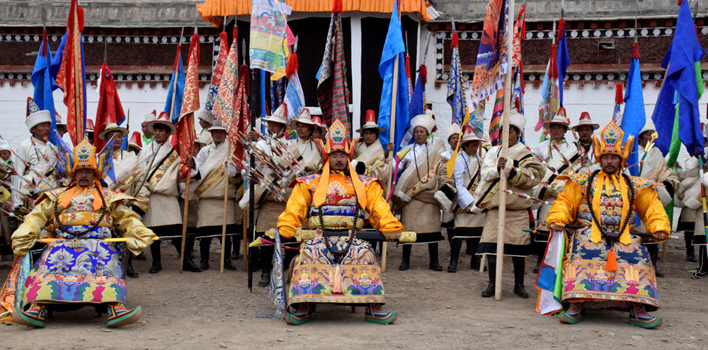 In the last January 2017, we cooperated for the first time with an active Austrian travel agency who organizes special theme tours successfully. It was a discovery tour during the Tibetan New Year Losar in Eastern Tibetan cultural area Amdo in Province Qinghai and Gansu. The group has returned home safely. Mr. Prof. Hans Foerst, the group leader, who is also the organizer, sent us his feedback at once when he got home:

Liebe Frau Zhu, lieber Herr Liao,panerai replica watches
Bin eben aus Osttibet zurückgekehrt. Ich möcht mich für die sehr guten
Hotels, den großen Bus und besonders für den Reiseleiter Herrn Chris
bedanken. Alles hat super funktioniert!!!!
Für die Schamanenfest-Reise im Juli bitte ich wieder unbedingt Chris als
Rieseleiter zu bekommen!!!
Danke für alles
Hans Först

On the way he told our tour guide, the dishes are the best which he have ever had for several times in China over these years. During the Chinese New year, many restaurants are closed, but the tour guide arranged for our clients having big meals in the local families. This is an uncommon experience!

Before this tour started, we know that there are new better hotels in some places, so we upgraded the hotels for our clients.

Mr. Prof. Hans Foerst has traveled around the world for many years. Several years ago, he wrote and published the 432-page Tibet travel guidebook "Tibet Reiseführer" and "Tibet – Feste und Zeremonien" in German. We are really gratifying that we can got his approval for the first cooperation with him as well as his company. Here are some Tibetan New Year Festival pictures which he has taken during this trip and the covers of his 2 books.